Recovery is a way of life – a way to Connect with family and friends, a way to enjoy life each day. Recovery is about letting go of trying to control situations and taking control of one's self.
Based on the innovative premise that addiction is rooted in the over-the-top, out-of-control lifestyles that have disconnected Americans from each other and their spiritual ties, Addict America: The Lost Connection describes and defines a new paradigm as to the elemental nature of addiction and how it affects our brains. In these pages, you will find life-altering information that will help you heal old wounds and open you to the ability to establish deeper and more intimate Connections in your life.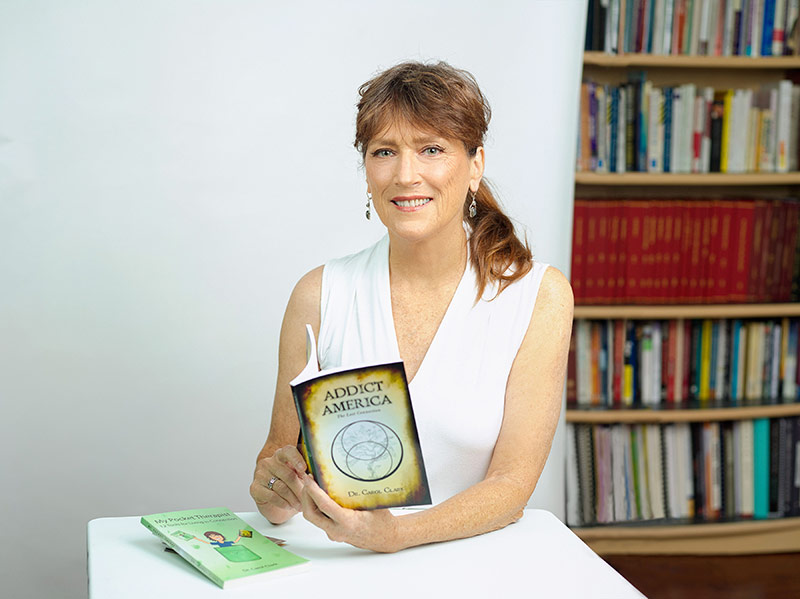 "Is everyone we know an addict?"
"Through my personal journey as the daughter of an alcoholic and as a counselor, I've realized that this needed to be shared on a universal scale," explains Dr. Clark. "Wherever we look, we can find a problem that relates to our addiction disabilities and disconnection to ourselves and the greater world. And we can also find an answer."
"Addict America: The Lost Connection" provides the skills that will empower the individual to make great changes. This book is intended for activists, teachers, politicians and parents—and for all of us who desire a stronger Connection to those we love.
"Addict America: The Lost Connection" is available for sale online at Amazon.com and other outlets.
"I personally found this book great help as it came to me when I needed it the most!
Anybody can relate to it as I believe that most of us go through this process in their life, and it is great to read how connected or disconnected we are within ourselves. Being aware is the key, once the problem is identified we then find the solution!
I 100% recommend this book!"
"Addict America is a must read for anyone interested in addiction. This book changed the way I think about addiction. Dr. Clark presents a new way of conceptualizing our behaviors and discusses a theory that incorporates our cultural, relational and spiritual selves. Not only does she present a new way of thinking about addiction, she offers steps to help with recovery. I recommend this book to both professionals and those touched by addiction."
"I highly recommended this book. Dr. Clark emphasizes on our spiritual connection with the world and how addiction interferes with it. When people think of addiction they think on drug abuse; however this book goes into the addictive behaviors that we encounter in our hectic life. This book helped me understand the importance of connecting with the world around us in order to have a better quality of life."
We need to recognize our fears and then take responsibility for them. We can make that decision to not bring the past into the present. Therapy can help with this. We can take the scary risk of being open to intimacy. We can believe that we are lovable. We can each choose to be a 10!
Intimacy and Connection in Recovery
As Dr. Clark conceptualizes in her book, Addict America: The Lost Connection, addiction is an unbrella concept that encompasses not only drugs or alcohol, but our behaviors related to sex, gambling, technology and anger.

Recovery is about letting go of trying to control situations and taking control of one's self.